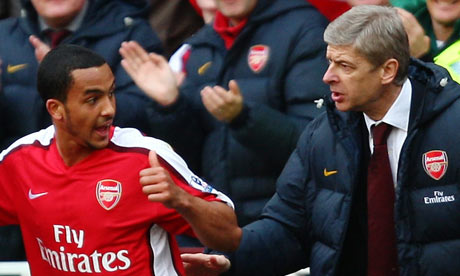 Hello, delicious Earth creatures.
I'm finding all this hullaballoo surrounding little Theo's contract to be quite silly at the moment. When things were up in the air regarding a certain Dutch prat's extension, I was resigned to us losing yet another outstanding footballer, and the team being left will a gaping hole. When it comes to Walcott, I'm not as concerned; my stance sits in total ambivalence.
That's not to say I don't think Theo is a good player. Every so often he'll have one of those games where he is unplayable, and I'll think to myself, "I see what all the fuss is about". However, as I'm sure many of you will agree, those instances are few and far between. For the most part, he has me screaming obscenities and contemplating hitting myself with a hammer from total frustration. Theo reminds me of Michael Owen; without the pace, he isn't remotely effective – although, he doesn't share Owen's enthusiasm to have a gamble by using sites like Bet with Bet Victor.
Personally, I don't think our style of play really suits him. Arsenal are a possession team, and, invariably, our opponents filter back in numbers and try to catch us on the counter. With little space behind the defenders to utilise his greatest weapon; the aforementioned pace, more often than not he is rendered fairly useless.
The irony is were he playing for one of our opponents, he'd probably destroy us.
For that reason alone, I'd like him to stay. However, I cannot, no matter how hard I try, justify him being offered some bumper pay-day to remain at the club. If he signed on tomorrow for a significant rise, I imagine the boo-boys would only have more ammunition to torment him with. He get's a rough ride from certain supporters as it is. If he were to continue to under-perform and frustrate as one of the club's highest earners, I could only see that getting worse.
Perhaps the best thing for all parties concerned is for Theo to find himself a fresh start.
Elsewhere, Vito Mannone has spoke of his desire to secure the No1 shirt.
"I had bad times and I just rolled up my sleeves and worked hard. Then, I thought: 'Let's go to Hull.'

"Nobody wants to go there really, but I found a good club, good fans and I gained experience.

"I played games as a No.1 – 24 games in a row – so that's what I needed.

"It helped me going on to the pitch thinking: 'Okay, I can be No.1 now
I think it's only a positive that Szczsney has some competition, and with his recent blunders, perhaps knowing he's not the automatic choice might make him concentrate a little more. Competition for places is healthy, and I've been impressed with Mannone in the games he has played. That said, I don't think he's ready for a starting posistion. Szczsney is still the best stopper at the club, and it's generally prudent to start with your best players.
Lastly today, the always knowledgable Mikel Arteta has spoken of the new "calm" in the current Arsenal team.
"They work really hard, they have some talented players and scored the first one at home, which means it is always difficult to get back into the game.

"But we scored two brilliant goals and managed to get the result – it was vital for us to get the first three points away from home.

"You can't panic, we knew in the last 25 minutes they were going to throw some bodies up front and create some problems.

"They missed a clear chance at the end but I am so glad to get the points, it is a brilliant way to start."
Arteta has been instrumental in our good start, showing that kind of discipline and team ethic that Alex Song failed to show on so many occasions. He doesn't need to be flashy, and much like Gilberto, his work can go unnoticed. But he does exactly the job in midfield we've missed for the past few seasons; he covers the players more advanced up the field, and the team looks more solid because of it.
That's all today, folks. Thanks for reading, you delicious people. What do you think on the points raised? Do you want Theo to stay? Is Mannone for the No1 shirt? Lets me know your thoughts in the comments.