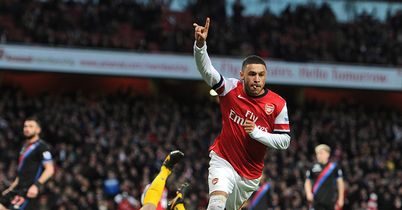 Morning, folks.
Just what the Doctor ordered. A delicious, spirit-enriching victory was consumed by supporters yesterday and now all is right in the world. Birds sing, the sky is blue, children frolic in meadows. Happy days.
Perhaps that's taken it a little too far. Drawing at Southampton was greeted with such incredible dismay that I just assume a routine, relatively formulaic victory at home would be received in the opposite manner. Can you imagine what will happen if we lose or win in a big game? The mind boggles.
Beating Crystal Palace yesterday was expected. Home fixtures against sides considerably lower down the league table invariably are. Although our visitors put up a decent fight in the first half, I had little doubt we were patient enough to find the breakthrough eventually. When we did, it was a glorious defence-splitting pass from the resurgent Santi Cazorla that found Oxlade-Chamberlain and our newly-bearded No15 finished with great aplomb.
I feel Santi's performance does deserve mention. Some – fairly – stated that during the early part of the season, the gifted Spaniard wasn't quite himself. In recent weeks, his displays on the pitch and contributions amongst the goals have found their way back into the heights we've grown accustomed to.  He is such a phenomenally gifted player. His size and agility makes it appear he has a magnet attached to his foot that prevents the ball from ever slipping out of his control. Having him return to form is a huge boost.
The same applies to the timely return of The Ox. Playing in central midfield instead of on the flank gave him the opportunity to surge forward and make runs into the box. With Ozil slinking about across many different areas of the pitch, runs from our midfield can produce goals. The contribution from Olivier Giroud to this shouldn't go unnoticed, as it's his unselfishness of movement that creates the space.
Chamberlain made the game beyond doubt in the 73rd minutes with another good finish. 3 points secured, we head into a run of testing fixtures at the top of the league – until tonight's match, anyway.
Elsewhere, Arsene was interviewed after the game and chose to give the story behind the recent signing of Kim Kallstrom:
"We have to establish the real truth about this story. He arrived here and fell on his back two days before.

"First of all it's very difficult to identify a player, who can come in, of that stature and then we made a medical (check) of his back and we found out he had a little micro-fracture.

"We have all played with micro-fractures.

"Then Spartak Moscow accepted to share the costs – as long as he's injured they will pay – and we had a decision to make."
Sounds pretty odd, right? It continues…
"We could have gone without, but first of all you must identify a player who has the quality to play for us in January.

"Then, because we have the number of players needed in that area, [they have to be] not locked in a deal of three or four years, where you pay the players to do nothing.

"So to find a player on a free loan, of that quality, on Wednesday morning until Friday night, is not easy."
Rightly so, the first question people will ask is why was searching for a player left so late? The general consensus amongst fans is that reinforcements were required. I am yet to hear or read the views of anyone that disagrees we needed to strengthen the squad. The whole situation baffles me. I'm not one for slating the manager of getting all irate and reactionary, but I do believe it's every fans right to ask questions from time to time.
Why did we sign someone so late we knew had an injury and is unlikely to be fit to play until March? I fully understand the difficulties that must accompany buying players in January, but surely it didn't need to be left until the last minute? Like I said; I'm truly confused by the deal. Perhaps there is logic and sense behind it. We all know Arsene is a very intelligent and shrewd man.
That's all for today, folks. Tomorrow I shall return with more. Until then, why not leave a comment with your thoughts on the game and the developments surrounding Kallstrom.
As always; thanks for reading, you beautiful bastards.