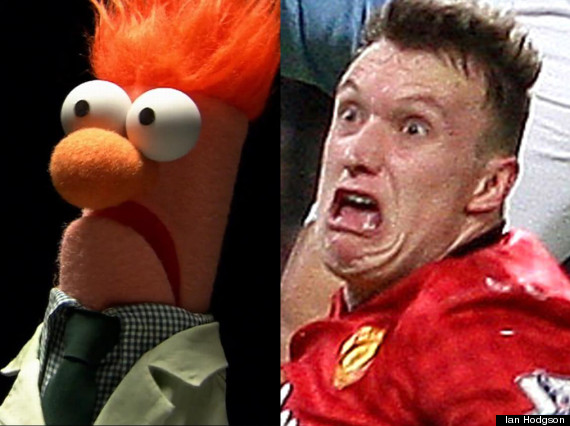 Morning, all.
That didn't exactly go to plan now, did it? I'm genuinely disappointed. United minus the powers of Sir Alex are not the force they once were, and yesterday was a good opportunity to beat them. Alas, we simply didn't turn up and play our game, and whilst it was a closely fought contest, it's hard to say United didn't deserve to take the win.
They pressed and scrapped in the manner I had hoped we would. Neither team showed any huge amount of attacking flair, but Arsenal offered precious little going forward, and succumbed to a simple headed goal from a corner. The biggest shame of all was it had the be that Badger-templed bastard who scored. I'm glad he celebrated the way he did. I'm glad the world can see what a vile ingrate he truly is. Robin van Persie is an arrogant, treacherous bully and a complete and utter piece of sh*t. World class he certainly is, but a thoroughly deplorable human being as well.
Given our two previous victories, I did think fatigue would play a part. It's not an excuse in any way, but certainly a factor to consider – as is the illness that struck a few of the players and prevented Mertesacker from starting the game. However, those things matter not a jot now. We lost, we had an off day. Many of the team (Flamini, Ozil, Ramsey and Giroud) didn't play to the heights we know they can. Defensively we looked secure, and Vermaelen and Arteta both had good game.
What's important is that we take stock and bounce back. Defeat is an inevitable part of football. We have made an excellent start to the season, and can't allow a simple bump in the road to send us into a downward spiral. Togetherness is what's important, wether we win or lose.
Of course, a defeat means the WOBs have started to emerge from the dingy corners in which they've hidden. I can't understand why some fans feel the need to demand things of the manager and announce he must be sacked simply because we lost a football match. It baffles me, it truly does. By all means be disappointed and criticise, because those things are what we all do as fans. But there has to be at least an iota of common sense involed. Most of the #WengerOut tweets have little or none of it.
Immediately after the game I was pissed off. Not to the point of directing hate towards the players and manager, but because Arsenal lost and that tends to piss me off. Now that I've had a few moments to take stock, I feel immeasurably calmer. Unless of course, I think about Phil Jones.
Could someone explain to me what he needs to do to get booked? It appears to me that the grotesque lump is allowed to saunter around committing fouls with impunity. I've a theory: I think Phil Jones is a supervillain. As a teenager, he was bitten by a radioactive herring, and since then has acquired superpowers. His diabolical gift is the ability to look like a professional footballer to referees, when the rest of the world sees a steamroller made of lard. Blatant fouls to the human eye are miraculously transformed into clandestine acts to referees through Phil's telepathy. Pure evil…
He's yet to get himself a name like The Mandarin or Red Skull. Perhaps I can be of service and assign him one; 'Thunder Lump' has a certain ring to it… (I was simply going to go with 'Fat C**t, but thought that might be a touch unimaginative and crude, albeit accurate).
Anyway….
Let's not take defeat badly. It's the past now, and whilst we sit at the top of the Premiership with a points cushion, I find it hard to be too upset. There's plenty of matches to be played. Much has been made of the 'tests' that we face. We haven't done badly at all where many assumed we'd falter. We should take heart and continue to press forward. There's still plenty to come from this team.
That's all from me today, folks. you know the drill; send me a comment or two with your thoughts on the game and how you think the defeat will affect us. I'll look forward to reading a few.
As always; thanks for reading, you beautiful bastards.