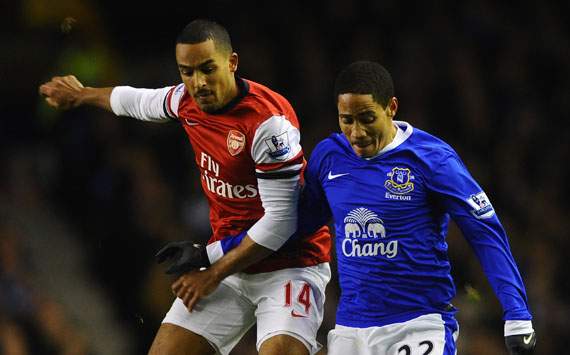 Morning folks.
Before our past two games, I would have been very happy with a points total of four – a draw at Everton being the one point. I wouldn't say I was too upset with the manner of our result last night, but it certainly shows poor we were at Villa. Goodison is tough stadium to travel to, and, once all the painful bleating and cries of discontent have stopped, to emerge with a point is hardly catastrophic.
However, as is seemingly customary, it could, and perhaps should, have been better. Theo's goal in the opening seconds was a great start, but Arsenal always have their fingers hovering perilously close to the self destruct button. Where other teams might have closed the game down and operated on the counter, we chose to wait patiently until the moment arose when we could do something really fucking stupid – and we did.
If ever you're stuck for an example of Arsenal's shit-awful defending – you shouldn't be – look no further than Fellaini's equaliser last night. Yes – it was a decent shot that curled past Szczsney, but the mistakes we made leading up to it beggared belief. We managed to give the ball away twice in the build up – from a routine distribution out of defence from our own goalkeeper.
With the scores level, both teams had chances to win the game. Olivier Giroud was unfortunate to see his header glide just wide from another excellent Walcott delivery, and Everton can rightfully feel aggrieved to have been denied a penalty after Arteta's clumsy challenge. All in all; a draw was a fair result. The main downside was losing Koscielny after a few minutes with a groin strain – an injury that's set to keep him out for the dreaded "3 weeks".
We've a decent run of fixtures in December, and plenty of opportunity to make back some points. A draw wasn't terrible by any means.
Right about now, Twitter users claiming Arsenal allegiance are lambasting the team and pinning as much blame on Aaron Ramsey as they can – ignoring his contribution to our goal. Deconstructing the performance strikes me as pointless today. In a community so awash with bickering, insults, and bloated opinion, to do so would only open me up to opprobrium from the extremists on both sides of the debate – it should be noted that these extremists are not just the ones calling for Wenger's head, but their counterparts too.
What I feel is best is a little distance. Sit back, take some time away from the internet and think; does a 1-1 draw against a very good team on their own patch really spell Armageddon? It's been a tough few weeks suppoerting Arsenal, but things could be a hell of a lot worse.
There are problems at the club, and things need to change. I don't dispute that. However, all this crap between fans is getting to the point where I feel better off disassociating myself from it. Are we really that petty we feel the need to bicker amongst one another and create these ridiculous factions? When the sun sets, aren't we all really just hoping for the same thing?
Personally I'm tired of it all – the black scarves, the Wenger apologists, the Ramsey haters, The 'AKB', The 'WOB'., Piers Morgan, and all this disarray. For now, I'm going to keep my distance and obtain a little perspective.
Thanks for reading, you beautiful bastards. The comments await a few of your opinions on the match, the players, and anything else that might be on your mind.
I shall return with more tomorrow.