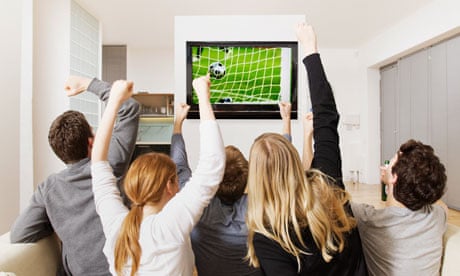 When it comes to Christmas, there's one part that really sticks out for die hard football fans – the big New Years Day game. If you're looking forward to watching the game this New Years Day whether it be at home with your family or with your mates down the pub, making sure that you're ready to watch the game in comfort is a top priority. But, with all the chores that Christmas brings with it, how can you be sure you'll have the time to enjoy the match? Here's our list of top tips for getting prepared.
Get All the Chores Out of the Way
New Years Day is usually filled with hangovers or some sort of chores, whether it be cleaning the house from the Christmas festivities, nipping out the shops to finally pick up batteries for over-used toys, visiting family and friends who couldn't make it over the night before or simply washing up the mountain of dishes from the previous day. If you're burdened with a load of things to do on New Years Day, you'll need to get all of this out of the way and finished to make sure that you're ready to watch the match in peace. Try splitting the chores between your family using the Ladbrokes' Twelve Chores of Christmas to get everything done quicker.
Get the Snacks In
There's nothing worse than sitting down to watch the big New Years Day match and realising that you're out of snacks and drinks. Before the match begins, make sure that you've got enough of your favourite snacks to go around, and that you've stocked up on drinks – hopefully, there will be plenty left over from Christmas dinner the day before that you can eat and drink. Turkey sandwiches make a great lunch or snack, and if you've been given plenty of chocolates as gifts then you're on to a winner. Cheese and crackers, crisps, and pigs in blankets are all leftovers that you should have from Christmas which you use for snacking on during the match.
Watch the Christmas Films First
New Years Day is well renowned for being the day that families gather round together and watch Christmas and family films, so if you're planning to watch the match, it's a good idea to plan your Christmas movie time around it so that nobody has to miss out. If there are films being played on the TV at the same time as the match that your kids really don't want to miss, setting them to record if you can or checking if there's a catch up option should be enough to make sure that everyone's happy. If you have more than one television, you might want to consider watching the match in another room – especially if it's only you that wants to watch it.
How do you make sure that you're ready to watch the New Years Day game? Whether you have a plan to stick to or simply go down to the local, I'd love to hear from you in the comments.