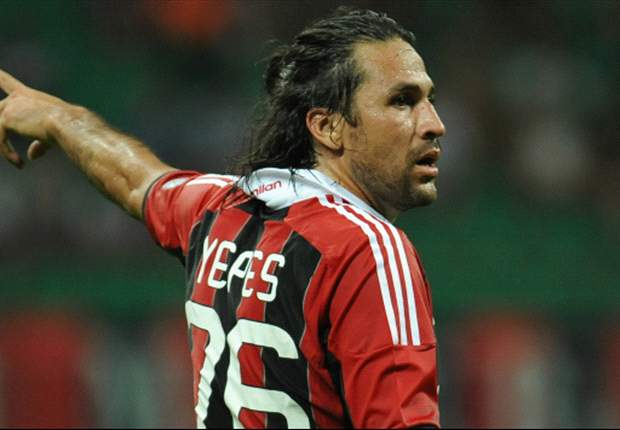 Morning, folks.
There was no post yesterday because it was my birthday and I was forced into working on a day usually reserved for celebration. Cruelly, I might add. In fact, it's tantamount to abuse as far as I'm concerned. Truth be told, I woke up scandalously late and missed the allotted period of time for delicious scribing.
You may berate me for this.
Because of international friendlies, there's a whole host of spurious bilge floating around out there in cyberspace. Stories it's easy to envisage were created by arbitrarily selecting players currently available on a free transfer and linking them with a move to Arsenal. Colombia's Mario Yepes being the most jarringly example. Journalists the world over erupted with relief when they discovered that fact.
In his pomp, he was a very good player. Those of you who relate stats and performances from Championship Manager to the real world will know he was an excellent addition to any squad during his prime footballing years. Now, however, he's 38-years-old and I can't for one second imagine Arsene would bring him in to plug a gap given he has zero experience in the Premiership – even if he does have a great amount in other divisions across Europe.
Unless, of course, Arsene wishes to "banter off" the entire internet and send them spiralling towards uncontrollable rage by picking up a free transfer when he could have made a signing. There certainly is a gap in our defence that needs to be addressed. Currently we operate a mere injury away from the distress of Nacho Monreal playing at centre back. But I don't see a free transfer coming in. At all.
I rate Nacho as a alternative to Gibbs at left back, but deployed centrally the concept of him facing the likes of Balotelli and Falcao fills me with icy dread. The kind of dread you experience when you see a fresh cup of tea hurtling towards the carpet as it evades your grasp. Or when a girl reaches towards her purse and you ponder wether she's after the pepper spray, or so Fonky Chris tells me…
It's most likely any reinforcements in that area will only come in January. Until that time, I fully intend to cross every crossable part of my anatomy and pray to Dennis Bergkamp that both Koscielny and Mertesacker remain free from ailments until we hit 2015.
It's certainly a risky strategy given the frequency with which our players drop like the proverbial flies. If the unthinkable occurs, Arsene might find himself the subject of many a Twitter rant and we all know by now how insufferable they can be.
Anyways, I'm rambling a little.
There's little else worth mentioning out there. I think I'll cut this post short and go and have a shower, maybe a cup of tea (clutched firmly) afterwards and then make the journey into work. Why don't you pop into the comments section and pour out your thoughts for the world to see – I say "world", I mean the 5 other people that read this blog. I love you all.
I shall return tomorrow with more. Until then and as always; thanks for reading, you beautiful bastards.