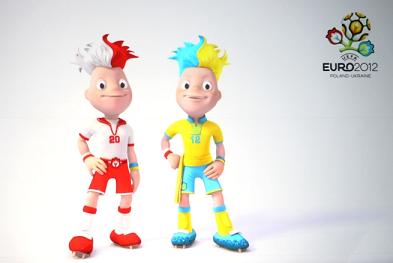 Morning, folks.
The picture above is of the official mascots for Euro 2012. Yes, I agree – they are unbelievably shit-awful. They look some sort of terrifying by-product of Jedward's miserable existence. I can't even bring myself to discuss them any further, and I offer you a full, unreserved apology for putting such a horrific and ill-advised image up in the first place. UEFA, aye? Where do they come up with this shit?
There are quite a few transfer rumours about today. Amongst the usual guff that floats about, there was an interesting story regarding our hunt for another striker. With Chamakh certain to take him and his shisha pipe to another club, the two main targets would appear to be Olivier Giroud and Trabzonspor's Burak Yilmaz. Yilmaz I've seen play a few times, and he's an idea I like – he is very good in front of goal, and the 33 goals in 34 league games in Turkey is testament to that. I'd have him at Arsenal. in fact; I'd be as bold to say I'd have him over Giroud.
There is an increasing likelihood of Yossi Benayoun will not be returning to Arsenal next season, which is a bit of a shame. Of course, he wouldn't be a first team regular if he returned. But as a back-up midfield option with a bit of guile? I think we could do a lot worse than him. He impressed me in the second half of the season. Having said that; there are more important positions to fill before we consider signing a player that wouldn't really be anything more than a welcome luxury.
The Ox has – reportedly, allegedly, or nonsensically – asked for a improved contract. I don't think we really should be considering offering players improved deals when they only have potential. Alex needs to show more than that. When potential becomes regular performance, then he should be rewarded. Otherwise, a lack of incentive will only breed complacency.
If you facny having a bit of a read on the subject, Daniel Cowan covers it in greater detail over at 'North London Is Red' – go have a look-see. I agree with everything he says.
Today sees the beginning of the Euros. Excited? Eager to see the world's greatest players in action? I'm not. I'm considerably underwhelmed by the whole thing. Of course, I'll be keeping an eye on the Arsenal players, and wishing Szczsney all the best for the opener – his Poland side take on the mighty Greece. Perhaps I'm just getting old and cantankerous. As a child, I remember watching tournaments like this, cheering on the England team and genuinely feeling behind my country. These days, I usually think to myself, "F**k off, John Terry. I'm not supporting any team you play for."
Perhaps I ought show a little more patriotism? Nahhh….
Thanks for reading, you delicious little beautiful bastards. I'll look forward to hearing from some of you in the comments. Until then, enjoy the feast of football that's coming to our screens, and follow me on Twitter @_ArmchairGooner