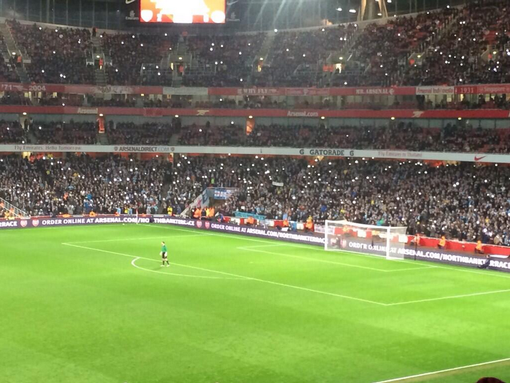 Morning, folks.
One of the perils working as a Chef is the frequency with which you're required to handle very sharp utensils. Yesterday, whilst handling the aforementioned, I managed to slice through a couple of fingers on my right hand. Painful, and the side effect that I'm just realising is how difficult lacerated digits make it to type efficiently. It's taken me nearly 4 times as long to write the first paragraph as it would normally.
With that utterly useless piece of information out of the way, let's move on to discussing the Arsenal fortunes of yesterday. Having watched the game again – I suffer with insomnia – this morning, it was an altogether pleasing experience. As far as spectacles go, I doubt the we'll be seeing any commemorative DVDs hitting the shelves any time soon, but we progressed to the 5th round scoring 4 goals and beating our opponents with minimal fuss.
Whilst the game was controlled and relatively easy for the majority of play, I do feel it would be wrong to not offer Coventry some praise. They came and gave it a go at times and looked a decent outfit. The Sky Blues' fans followed through with their promise to protest the changes happening at their Club, and it was incredibly warming to see The Emirates crowd offer them a rousing round of applause for their efforts. Richly deserved and a campaign that any football fan can see is worthy and deserving of backing.
Having said the match wasn't a classic might lead you think there wasn't much of note, that a routine victory occurred easily and can be buried in the annals of time and forgotten about. Not true. Certain performances stood out. Lukas Podolksi took both of his goals extremely well and it was great to see him starting a match for Arsenal. The German international is lethal in front of goal and the quicker he returns to 100% fitness the better.
Of course, the one name on people's lips is young Gedion Zelalem. Almost painfully young at 16-years-old, he came on as a second half substitute to make his competitive debut for Arsenal.  This kid is scarily talented. He didn't have all that long to make his mark, but the ease with which he distributed the ball, his touch and composure showed he's the real deal. Unquestionably one to watch for the future, to such an extent he has not only been compared to Cesc Fabregas, but is considered a more talented prospect in many circles.
A few moments after the game finished, transfer news erupted into a frenzy. According to several sources throughout the media – not sure how reliable, but I'd guess not all that much – Schalke and Arsenal have reached an agreement regarding a fee for Julian Draxler – the young German international is alleged to be "desperate" to join us and his current employers not averse to the possibility of a sale.
Since these rumours began I've done what I'm sure most of you have; I've delved into YouTube and watched as many highlights videos as I can. Knowing full well that such videos can be incredibly misleading, I still find myself getting just a touch excited. Wether or not signing a young man deployed predominately out wide or in attacking midfield would solve our need for a striker is open to debate, but he does look an incredibly gifted player.
Journalists questioned Arsene about the legitimacy of the stories during his post-game press conference and the Manager was very quick to pour a dose of cold water onto them. Arsene said:
"Draxler? Honestly, no. That is again an illusion. We have no need to take players on the flank.

"We don't rule a striker out. But at the moment I cannot announce anything."
One of things about that kind of quote is that you can never really accept it as the truth. As far as we know, it is completely legitimate and Arsene has no plans to bring in Draxler, but given his propensity for keeping business matters out of the press, he was never likely to confirm anything at all. Many people out there will point you towards many examples of Arsene denying interest one day, only for the player in question to sign soon after.
Will we sign Draxler? I'd be hard pressed to say with any certainty as I'm about as ITK as those that claim they are. However, I would be willing to admit I'm a little dubious. Call it pessimism if you will, but I just can't see it happening. I would love to be wrong, but I would assume that if a price has been agreed, then the deal will most likely be arranged for the summer months. We shall have to endure a few more days of speculation until we know for sure.
All in all, a good win and a decent performance last night sees us in the 5th Round and I'll be hoping for another home draw. Onward we go towards Tuesday's fixture at Southampton with another victory under our belts.
That's all from me, folks. Drop me a thought in the comments section regarding the overall performance, your stand-out players and all the hullaballoo surround Draxler. I'll look forward to hearing what you have to say.
As always: thanks for reading, you beautiful bastards.