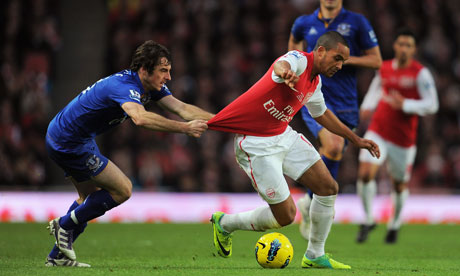 Afternoon boys 'n' girls.
There are 6 games remaining for us to secure a Champions League place, and tonight's is the toughest and the most important – the visit of United would be considered the sternest test ordinarily, but there is a great deal more riding on this game. Everton have had an excellent season and could really set the cat amongst the pigeons should they secure 3 points.
The Toffees sit 4 points behind us in the table, and 3 behind Spurs and Chelsea. Any hopes they have of qualification for Europe's premier competition will depend largely on their fortunes this evening, so I fully expect them to come out and try to beat us. They can ill-afford to sit deep and play for a draw, or soak up pressure and hope to steal a win on the counter. They'll attack, and with a bit of luck that mentality will play into our hands. Too often we see Arsenal struggle to break down teams set on parking the bus. Against an opponent playing for the 3 points suits us.
There's a mixed bag in the way of team news. Tomas Rosicky has recovered from his recent injury and is fit and available, as is Per Mertesacker who returns from his domestic ban. However, recent first choice stopper, Lukas Fabianski is a serious doubt with a rib injury, and Arsene is likely to plunge Szczsney back into the fray after having so unceremoniously dropped him. Nacho Monreal is expected to retain his place at left full-back, and Abou Diaby remains stuck on the sidelines having already sustained every injury imaginable – in fact, I'm certain our medical team have started inventing conditions just to keep things fresh and interesting.
Some say there is a chance Wilshere will be rested, but for a game of such magnitude I find that difficult to believe. My guess would be:
I can already feel the nerves swirling around my stomach. We may have played games far greater in their significance, and with a more illustrious prize, but victory tonight could see us well on the way to cementing our claim for a top four finish. Defeat could set us back considerably. A draw isn't catastrophic, but wouldn't be of much use to either team, and would feel like defeat given the opportunity we have.
As I reguarly state, defence will be the key tonight. For all our dominance with the ball, our undoing usually comes from silly, avoidable mistakes at the back. Concentration and focus will be important, and Everton pose a threat in many areas of the field, and have players who can deliver well from set pieces.
If we can focus, and if we turn up in the attacking third of the field, I'm fairly sure a favourable result will be forthcoming. It's times like these that the well-documented "strong mentality" of the team needs to be on show. The pressure will be on, the fans will be high on expectation. It's time to stand up and be counted, Arsenal.
I think it will be close tonight, and we'll pinch it 2-1 having gone a goal down early on.
If you enjoy putting a little cash on the outcome of matches, and you feel today could be lucky for you, head on over to Bet Victor and check out their latest odds. New members will receive a free £20 bet for signing up. You can register here.
That's all for today folks. The comments eagerly await your thoughts and predictions. Who would you start? What do you think the final score will be? Let me know.
As always; thanks for reading, you beautiful bastards. I shall return tomorrow with a review of the game, and hopefully a bit of good news.