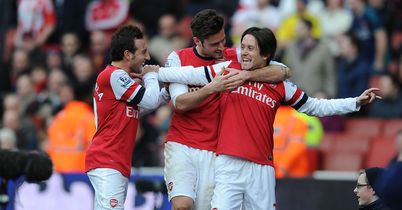 Morning, folks.
This may well be the briefest match review you'll read. Don't hold it against me; I'm suffering with an astonishing lack of sleep and instead of heading to bed where I should be, I'm taking a few moments to ensure my run of posting every day in 2014 stays intact.
I've managed to see as much of the game as possible. Yesterday I worked a 12-hour shift and missed everything of the match as it occurred live – checking Twitter and live scores services whilst serving wedding food is extraordinarily tricky. It also tend to go down rather poorly with those expecting you to actually be performing the tasks you've been assigned. You'd think it was obvious where my priorities lie…
In order to keep things short, here's a handy bullet-point list of a few things I managed to glean whilst checking around for footage of the game:
It was a fluid, intelligent performance with scatterings of truly wonderful approach play – the third goal from Tomas Rosicky was what I'd describe as the quintessentially 'Arsenal' goal and It was a joy to behold.
It was a solid team performance on the whole. Even without Mesut Ozil, who was correctly offered a rest, we looked capable of opening Sunderland up at a moments notice. Olivier Giroud took his two goals well and it'll be good for his confidence to bag a brace after his recent, shall we say, tomfoolery and stupidity.
We started quickly. Too often in games we've floundered and dragged our heels in the opening exchanges. We learnt how costly that approach can be at Anfield. Since that day, the team has shown a little more urgency.
Even with Chelsea's result, we still are keeping the pace with those around us at the top. Liverpool are sure to have a huge baring on how things pan out, and a few results in their favour could see them right in the mix. At this stage, any one of 4 is in with a realistic shot at the title.
It was lovely to see Dennis Bergkamp back at The Emirates for the unveiling of his statue. I'd like to think some of the free-flowing football and subtle exchanges on the pitch would have warranted an approving nod from the brilliant Dutchmen.
That's about all I have to say to you all today. Apologies for the shortness, but I'm sure you'll understand my bed is calling and performing the simple task of keeping my eyes open has become increasingly difficult. At this stage, I might fall asleep on the keybo…..
vokjsdnvkjsznvkjzsnvkjsdnvjksdvnsjlavnskajvnkjsavnkjdsv
*snores loudly*
The comments are below. Please feel free to drop me a line and discuss some of your favourite moments from the game, the performance and the glorious sight of a legend returning to his home. I shall be back, bright-eyed and bushy-tailed, tomorrow with something considerably more substantial than today.
As always; thanks for reading, you beautiful bastards.