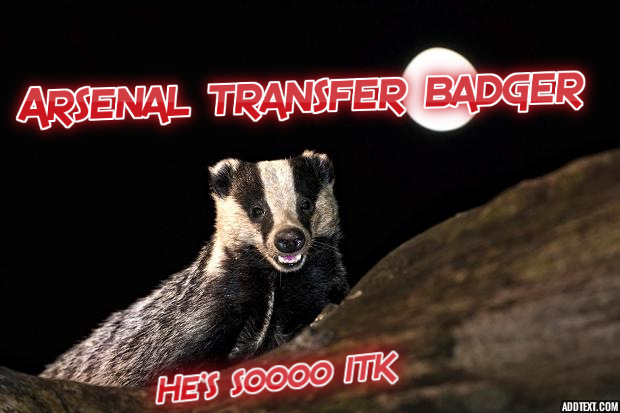 Good afternoon folks.
Welcome to a new feature on The Armchair Gooner.
With James ill and incapable of posting anything remotely sensible at present, writing duties will be taken up by me. You can call me 'ATB', although my first name is Kenneth, if you prefer. Every Sunday during the summer I'll be rummaging and snorting my way through the dense and grubby foliage of transfer rumours.
Fortunately for you, I'm very much "in the know". Many nights I have spent looting Stewart Robson's trash for clues – incidentally, that man uses Vaseline like it's going to be an obsolete product soon – and I have some tasty morsels to share with you today.
*snorts and snuffles*
Gonzalo Higuain will be an Arsenal player next week. Or perhaps the week after that. Or maybe never. Or next Tuesday at 3.30pm as long as there is a 50% chance of rain, and the astrological signs have aligned correctly. One thing is for absolutely certain; it will happen.
The burly Argentinian will sign on for £23m, or perhaps a little more than that if Real Madrid continue to attempt to bleed Arsenal dry. Who do they think they are? Scoundrels…
*snuffles and snorts*
Elsewhere on my travels, another name has been added to the plethora of defensive midifled targets. Stephan Mbia of Queens Park Rangers astounded all with great performances that lead to his side's relegation, and the chase for the player is hotting up. With Arsenal already looking at established stars such as Fellaini and Bender, why wouldn't they turn their attentions to someone who isn't as good? He's not a terrible player, but Arsenal can do better!
*snorty snuffling*
Most of you thought we are only after Julio Cesar. You were mistaken. My ITK sources, that I absolutely haven't stolen or invented, tell me that Arsenal are also interested in Frederico Marchetti of Lazio. Yes – I realise that news in on Sky Sports, but I in fact had the scoop 4 weeks ago, yet was unable to share it with you. Have you tried typing and using a computer without opposable thumbs? Better still – try being a badger using the internet in a Cafe, and see how you like the eerie stares from passers-by.
*snorty snuffly snorts and snuffles*
That's all for this week. I have to locate the offices of Caught Offside and give their entire research department bovine TB. Until next week, boys and girls; you all stay well, and leave me a treat on the back door step for when I come to visit.
Crisps are nice, but not pickled onion Monster Munch. They give me terrible gas.