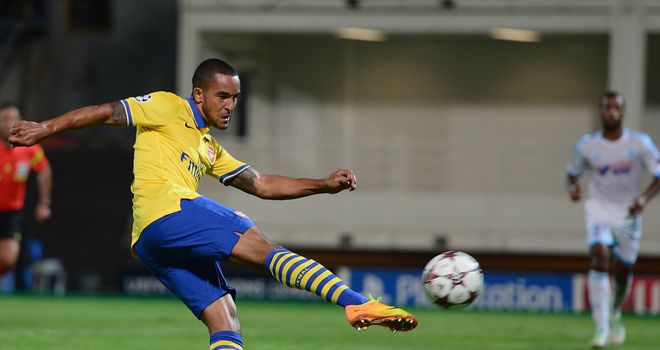 Morning, folks.
It's such a bloody nuisance, all this work and other stuff I have to do. One thing certain to cause me to become irked is supposedly "important" things rendering me unable to post here as much as I'd like. If the world we inhabited was an ideal one, my time for blogging would be considerable, enabling me to write at my leisure. Unfortunately, it is not.
Drat.
Anyway, I'm wasting valuable time by dribbling on about stuff that has no relevance. "Dear God man, this is an Arsenal blog!" I hear you collectively exclaim. That's usually my cue to starting being sensible.
10 straight away wins. What you have there is an undeniably impressive statistic. Some stats are bloody silly. I don't especially care how many times Mikel Arteta passes at a 45 degree angle to a teammate. On the main, I find stats boring and pointless, but that one I like. It sounds impressive, and that's because it is.
This Arsenal team has something about it. Yes – it's early days and announcing ourselves as a superpower at this stage would be excruciatingly silly, but I do have that 'feeling' – a feeling I get when I can sense good things are on the horizon. Perhaps some of you share that sensation. I'm sure it's not just me.
As a team, we looked relatively solid and, barring the odd bizarre defensive blunder, weathered the occasional storm to finish deserved winners. Special mentions should go to Szczsney and Gibbs. Neither will grab the headlines, but both were excellent.
Who'll grab the headlines? Aaron Ramsey.
If you're a regular frequenter of Twitter, you'll have noticed there's quite a bit of one-upmanship going on. Those that defended Ramsey during his, shall we say, 'darker' period at Arsenal are gleefully showing the world that they were right all along. Those that threw all that vile abuse are conspicuous by their absence.
That vitriol aimed at a young man was disgusting. Wishing someone dead simply becuase he isn't performing in a manner expected is about as vile as it gets. However, I'm a firm believer in being honest, and you have to say Aaron's form, at the time, wasn't as good as it could have been. I'm sure he'd tell you the same thing.
We're a fickle bunch, us fans. Some feel the need to portray themselves as the great rationalisers of this world, others bed themselves in one extreme camp and refuse to move. Personally, I disagree with all of that nonsense. We've a right to complain when players perform poorly, or when we feel the Club isn't doing all it can to progress. It's not wrong to do so.
I complained about Arsene's transfer policies during the summer, I stand by that. I've said countless times in the past that I thought Ramsey was playing poorly, I stand by that. I stand by my opinions at the time, because that's how I felt, and I'm big and ugly enough to admit that I regularly get things wrong. Just like all of you. None of us are infallible or preachers to those beneath us; we're just human beings, and we're more than capable of saying stupid things.
I guess I find all of what's going on around me a little silly at times. As an Arsenal blogger – one of many – I try to write honestly.  I'm just free-writing as it comes off the top of my head. Perhaps it makes little or no sense, and I'll be getting some of those rude comments I enjoy so much.
Right now, I couldn't be any happier for Aaron – a player who deserves his time in the sun more than most. He's showing all that potential he had was worth persevering with, and that the bad form was a momentary blip.  Point being – if you are one of the people responsible for the vitriol he received, then you should be ashamed of yourself. If you spoke about his poor form, you were just being honest. No amount of self-important Tweets from others pointing out mistakes or perceived wrong opinions should change that. They've made just as many themselves.
Jesus. What the f**k am I talking about?
I do possess a superhuman ability to rattle on. There's a point in amongst that lot somewhere, I'll leave you to find it. My finishing words shall embrace a deliciously warm and welcome 3 points, and the glorious manner in which we've performed recently. We look like a team, there's a spirit and togetherness there.
Okay, time to finish.
I'm thinking about deleting all this and starting again… Oh, balls. I'll leave it.
The comments are below. Let's be having a few of your thoughts on the game. Try not to have a pop at me regarding the content, mind you. Well… you can if you want, I shan't take it personally.
As always; thanks for reading, you beautiful bastards.