Morning, folks.
Doubtless to say, every group of supporters has its fair share of pillocks (my Bristolian accent really embraces that word) and ours is no different. During my daily scour of all things Arsenal, I came across a dastardly plot to boo Gonzalo Higuain when he steps out for Napoli at The Emirates Cup.
Just seen a 'fan' on Facebook urging those attending the Emirates Cup to boo Higuaín. Do us a favour mate, stay at home. Embarrassing. #afc

— FK (@fkhanage) July 29, 2013
What a monstrously idiotic idea that is.
Quite what possess some fans to conjure such peculiar ideas is a never ending source of bafflement for yours truly. What exactly has he done to warrant such abuse? Was it the moment he adorned himself in a Spurs shirt and pranced gleefully about North London enthusing, "Arsene Wenger is a potty-mouthed incompetent"? No. That didn't happen. Perhaps, in a moment of weakness, he sullied the good name of Dick Law in a videoed sex-a-thon? I'm pretty sure those events never took place.
Or, could it simply be that some people have adopted such a petulant attitude towards Arsenal affairs, that their misplaced sense of entitlement turns them against anything and everyone. Now that seems logical to me. I'm going to The Emirates Cup, and hope not have to witness any such balderdash. I'm sure I'm not the only one.
Elsewhere in news, an Arsenal XI played a friendly against Leyton Orient yesterday that ended in a thrilling 4-4 draw. Wellington Silva made a rare appearance, and bagged himself a brace of goals in the process. Having just watched a little bit of the game via the worst quality stream I've ever had the misfortune to see. I think Chuba Akpom played well, but I'm not sure. A fuzzy, pixilated figure certainly did.
Lastly today, I'm going to give a special mention to a very worthy cause being organised by some friends of mine. Evan Pritchard was born with hydrocephalus, spina bifida, Arnold Chiari malformation, talipes and kyphosis of the spine. Since birth he has endured many operations, the 1st of which when he was only 2 days old.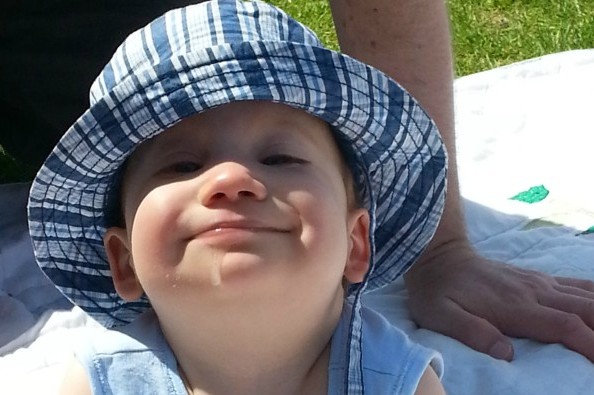 A brave and chirpy character, Evan is at his happiest when moving around. In order to be able to grant that wish, his parents, Charlotte and George, hope to buy him his first wheelchair. They are good people that require a bit of help.
Below is a link to his page. If everyone who reads this takes a few moments to donate even the smallest of sums, we can collectively aid a little boy less fortunate than ourselves. I hope some of you good people will join me in doing so. Any help you can give will be greatly appreciated.
Donate to Evan's first wheels here.
As a special incentive for your good deeds, anyone who donates (reasonably) to the cause, and mentions this site upon doing so, will go into a draw where I will select a name at random to receive the new Arsenal away shirt.
That's all for today, folks. I'm now off for the net 5 days, and I fully intend to bask in glorious free time doing as little as possible, other than that which titillates. The comments section is below. Would you boo Gonzalo Higuain? Are you going to The Emirates Cup? Let me know.
As always; thanks for reading, you beautiful bastards.