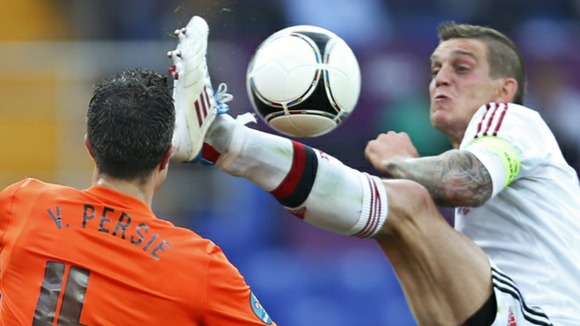 Greetings, Earthlings (and those of you who may be reading from another dimension).
Manchester United at the Emirates is undoubtedly a huge fixture, and today there's plenty for the Arsenal to play for. However, I can't help feeling a little nostalgic for the days when it really meant something. 
Vieira vs Keane, Henry vs Van Nistlerooy;  during days when both teams were at their peak proceedings had bite, bad tempered exchanges, and their was a true challenge presented to one by the other. These days, that all remains a distant memory. United are still the side to beat in English football, and where they have continued to dominate, we have fallen off the pace and languish a few steps behind.
Today, we will present them with a guard of honour, and welcome back one of our ex-players – a man you could argue quite comfortably is the main contributing factor to their championship success. Like many of you, the thought of Robin van Persie in a United shirt celebrating a league title makes me nauseous.
But those are the facts, folks. None of us like them, but none of us can do a damn thing to change them. Doubtless to say, vitriol and hatred will be issued freely from the stands for our traitorous Dutch friend, but I do sincerely hope that's kept to a minimum, as the result of today's match does have great significance – if not as great as it once was. With Spurs slipping up against Wigan yesterday, a victory today will do us the world of good.
The team news is the usual mixed bag of notable absentees and decisions the manager has to make. Olivier Giroud's bumbling antics at Fulham mean he's suspended for the game, so Arsene's biggest choice is who he starts down the middle. Personally, I can't see past Podolski. Walcott and Gervinho posses neither the imposing stature or the form to be deployed alone, and either player I feel would be very easily marshalled by United's defence. Podolski at least has some physicality, and a thunderous shot from distance. Perhaps his fitness level is the only problem area. That said, I think Arsene will go with Theo. Definitely out are Fabianksi with the same rib trouble, and Diaby with an entire structural meltdown.
I guess the starting XI will look like:
United's league win could work in our favour. They have only Chelsea's record points total to play for now, and whilst I doubt they'll take their foot of the gas too much, I also can't see them as being focused and strong as they would have been had they required a result today. Alex Ferguson could conceivably rest some key personnel – I wouldn't be at all surprised to see that Dutch prat start on the bench – and give starts to some other squad players.
That said, our destiny still depends on only us. This is a big game, and a big performance is required. Some of the prestige may have fallen away in recent years, but the history and passion still remains. We'll need nothing less that a superb all round display to get 3 points today, and hopefully the occasion will bring the best out of the players.
Our support will be vital. Whilst I wouldn't dream of telling those fortunate enough to have season tickets/tickets how to behave – a trait of some bloggers I find silly – I do hope the fans put their energies toward cheering on the team, and not calling Robin van Persie all the names under the sun for 90 minutes – even if he does deserve it.
As ballsy predictions are my forte, I'll go with a cheeky 1-0 to the Arsenal, and a winning goal from the much improved boots of Aaron Ramsey. A draw wouldn't be the end of the footbaling universe, but a defeat would put things back into the hands of our rivals – something we can ill-afford to allow with such little time remaining to secure a Champions League spot.
If you're interested in placing some cash on the game, head on over to Bet Victor for your fix of all the possible avenues in which you can double or triple your money. Newly signed-up members will receive a free £20 bet. You can register here.
That's all for today folks. I've got my game face on, and I'm prepared for the game. Fingers, and all other crossable parts of my anatomy are crossed. I shall return tomorrow with a review. In the meantine, use the comments to tell me some of your thoughts; how would you welcome RvP? Who would you start up front?
As always, thanks for reading, you beautiful bastards.