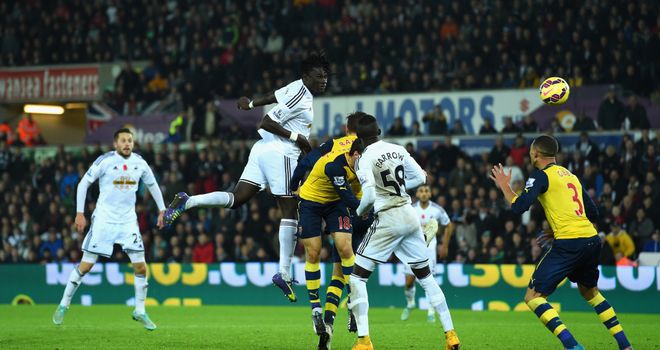 Morning, folks.
I hate waiting. Whether it be in queues or traffic, I don't have the patience. Ask my girlfriend, she'll be only too happy to regale you all with tales of my verbal outbursts in the car and general inability to sit still for a period longer than 5 minutes. She does love a good old fashioned moan – invariably at my expense. She also has a great sense of humour and is laughing whilst I read this paragraph back to her – all while I sit patiently at her place awaiting a feast of roast chicken.
My lack of patience certainly applies to weekends without Arsenal games when we have to suffer what feels an interminable period of time until the glorious boys in red 'n' white make their way out onto the pitch.
Mercifully, 7:45 tonight sees the end of all that bloody waiting malarkey. Swansea City are in town and it's a game in which victory will secure us one of the automatic Champions League qualification spots – I don't much care whether we finish 2nd or 3rd as neither are 1st and that's the one that really matters.
With the season winding down now that Chelsea are the title winners, it's easy to take one eye off the remaining league fixtures and focus on the upcoming FA Cup final at the end of May. I find myself struggling to get really enthusiastic about tonight's game and I'm pretty sure I'm not the only one.
In fact, I'm almost ambivalent toward it in a strange way. I'll watch intently and hope to see a relatively formulaic win, but with the FA Cup final standing out as the only game left in the season that carries real significance (perhaps the game at United over the weekend does too) I'm looking forward to that more so than anything else.
It will be nice to see one of the heroes of last years triumph return to The Emirates tonight. Lukas Fabianksi had his ups and downs as an Arsenal player but he left on a high having been an integral part of the team than brought us some delicious silverware.
I can remember the moment he charged from his penalty area last May like it happened 5 minutes ago. Picture the scene; I'm dressed as a cowboy at a friend's stag-do in central Bristol and I spent the vast majority of my time there with my face glued to the nearest TV screen. At the precise moment Lukas sprinted from the sanctuary of his area I let out a blood-curdling cry of "WHERE ARE YOU GOING?!" and attracted quite a lot of attention onto myself, none of which was particularly good.
My innards went from calm to unnerved in less than a second and my face went white as a sheet. Because of that, I feel Mr Fabianski owes us at least 2 relatively soft goals conceded. I don't think that's too much to ask.
The team news has Aaron Ramsey as the one major doubt and I can't see him being risked at all if he isn't anywhere remotely close to full fitness. Theo Walcott seems the logical choice to replace him on the right side of midfield but I wouldn't be at all surprised to see Arsene tinker with the formation slightly in order to give Jack Wilshere a start.
Other than that, I think the team will be the same as the one that started at Hull City. The players adopting the same mentality of winding down in preparation for the FA Cup final is probably our biggest enemy tonight. Complacency has often been the thorn in our side against teams we should comfortably dispatch, so an unfavourable result isn't a unlikely event.
That said, our impressive form over the past 10 games should see us through. Consistency brings with it a winning mentality and my instincts say we'll win this one by a couple of goals and secure that automatic Champions League spot. My ballsy prediction will be a victory by a couple of clear goals…. Let's say 3-1.
That's all for today, folks. The comments await your views on the game and score predictions. Let me know what you think.
I'll be back tomorrow to talk about the events. Until that time, and as always; thanks for reading, you beautiful bastards.