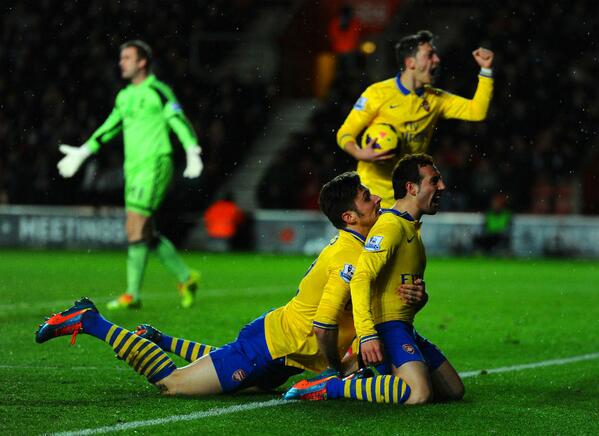 Morning folks.
Before I get into my review of the game, I feel it's best to start by complimenting our opponents. Arsenal were undeniably poor last night, but that shouldn't be used as a way of describing the result when Southampton acquitted themselves admirably. From the kick-off, they hassled and pressured and imposed their own passing game on us once they gained possession.
In Adam Lallana and Luke Shaw they have 2 of the best prospects in the Premiership and they'll do well to hold on to either. When the big boys come waving their cheque books, it'll be a great shame to see such a good side dismantled, but such is the modern game. I genuinely believe Southampton could push for one or two honours if they can keep the nucleus of their squad intact.
In the first half, Arsenal were woefully abject. We've hardly fired on all cylinders at times this season, but have always shown enough in the important moments to rightfully get results. Yesterday evening we floundered and could quite easily have found ourselves trailing by a greater margin at the break were it not for fortune and some excellent defending from Koscielny.
A lot will be made of the Flamini-Arteta 'double pivot' that started the game. It seems there's another split faction amongst Arsenal fans; folks vehemently prefer one over the other and feel they are unsuited to play together. I've made no secret my love of The Flame, but it doesn't in any way come at the expense of Arteta. Just because I prefer one doesn't mean I dislike the other. Far from it. Truthfully, both were poor. Arteta looked slow and off the pace, Flamini couldn't make up his mind which role he was playing and acted quite foolishly to get himself sent off – If you go in two-footed like he did, then you have to expect the worst. He should know better. He'll miss 4 games, and we've some very important ones coming up.
The real stinker of the evening was had by Nacho Monreal. Usually such and assured and confident performer, nothing went right for our Spanish friend. I doubt think it's anything to fret about. Every player can claim to have had 'one of those days' in his time and last night was Nacho's. It's a shame. He was just beginning to give Arsene real selection difficulties at full-back. I thinks it's safe to assume Gibbs will start the next game.
The second half began with an upturn in fortune. Having played so poorly, we suddenly found ourselves leading 2-1 thanks to decent finishes from Cazorla and Giroud.  Alas, it lasted mere minutes and a defence that has been resolute and impenetrable in recent weeks decided to concede poorly soon afterwards. All in all, it wasn't Arsenal's evening and looking back at it, a point wasn't the worst outcome at all. St mary's is a tough place to go, and if Southampton continue playing that way, they'll take further points from many other teams.
In a performance that won't go down as one of our better, one player did stand out; Mesut Ozil. After a tepid showing in the first period, he came out eager to impress and make things happen in the second. He assisted Cazorla's goal, and at one point exploded through Southampton's midfield as if it didn't exist only to see his shot deflected onto the crossbar. It was truly breathtaking. More so than any other, he was keen to start attacks and showed a few glimpses of just how f**king brilliant he is. I've said there's so much more to come from him in the future. As he grows in stature and becomes more accustomed to the pace of English football, he'll come into his own. When that happens, we're in for a treat.
As you might expect, Arsenal's poor performance opened the floodgates on the Internet. You'd be forgiven for thinking Armageddon was upon us the way some react. I understand frustration at the result and I don't dispute it's fair to criticise. However… Some people need to lighten up. We drew a tough away game. It's not the end of our season. Other teams will drop points to and there's still a long way to go until May. We're still very much in this.
The evening's misery wasn't finished at the final whistle. Afterwards, news broke that Aaron Ramsey would be out somewhere in the region of 6 weeks having suffered an injury setback. The injury has since be confirmed by Arsene, but the duration was not and it's hoped it won't be as long as initially suggested.
Aaron Ramsey has suffered a setback in training – but nowhere did Wenger say six weeks. They're hoping it's much shorter and small setback

— John Cross (@johncrossmirror) January 28, 2014
With that in mind, as well as The Flame's suspension, Arsene was quizzed about potential incomings. His reaction was:
"We're hoping to have some news for you"
Accompanied by this face: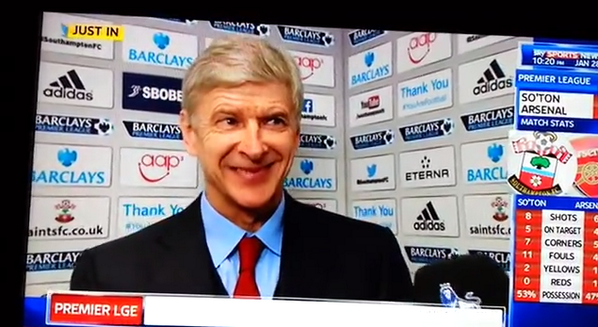 Who knows, folks – maybe he has something up his sleeve to dazzle us all with before Friday.  However, I wouldn't get your hopes up. I find approaching transfers in any other way invariably leads to disappointment.
That's all for today. There's a comments section below in which you may share your thoughts and frustrations regarding the result. Remember; be nice to each other. Debate until you're blue in the face, but any abuse won't be shared or tolerated.
I'm off to prepare some podcast bits and have a cup of tea. I shall return tomorrow with more. As always; thanks for reading, you beautiful bastards.