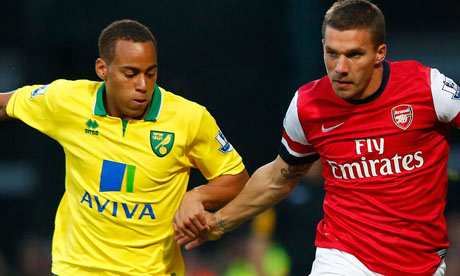 Morning, lovelies.
The end is near. It's been a funny ol' season, hasn't it? What initially promised so much, perhaps rather inevitably, fizzled out at the business end and left us all pondering the 'what ifs' and 'if onlys'. Whilst important questions that probably should be addressed, to me they're irrelevancies. Whatever could have happened, whatever might have been, didn't and wasn't. We are where we are.
Maybe it could have been a different story had we thrown a little cash around in January like football's equivalent of Jordan Belfort, but, for reasons unknown, we did not. Arsenal have secured Champions League football and next weekend gives us a glorious opportunity to end the silverware drought that's plagued us for the past 9 years. If you remove all the bitterness and self-important rage splattered across the majority of opinion found on the internet, it's hardly a disastrous campaign. 
Yet, those that expected better aren't wrong to do so. I don't much care for the manner in which such thoughts are expressed – usually with apoplexy – but we are Arsenal and we led the way for the greater portion of the season. 4th isn't appalling, but it's also pretty far from a success.
Given that position in the league is secured and we can't finish higher than 4 barring a spectacular capitulation from Chelsea, I expect today's game to be about as stimulating as playing pub darts for 72 hours in a row. With the FA Cup on the horizon, it's a fairly safe bet the starting XI will be rotated and allow a few players on the periphery to strut their stuff.
As that may be the case, your guess on the team is as good as mine. Notably, Abou Diaby has returned to the squad and might even get a few minutes on the pitch today. Irritatingly, that prevents me from scribing my customarily idiotic reason for his absence from the squad. He isn't chasing an enormous cheese down a hill, he won't be staring in a Vegas musical, it's unlikely his Hip Hop career is going to take off; he'll be in the squad.
So, without further ado, here's my uneducated guess:
I think we'll win today and I don't think we'll concede. Should we accomplish the latter, Szczesny will win the 'Golden Glove' award for most clean sheet – an award I find a little odd given the amount of times we've been hammered on our travels.
Norwich are everything but mathematically down, so they might want to sign off from the Premiership with a bang and look to put on a show, but in all honesty I'm expecting an interminably tedious game and 1-2 goals tops. It'll be good to finish up with a win. Let's hope we do.
Lastly today, boys 'n' girls, I thought I'd again point you in the direction of the Fanzo Football App. I've downloaded it onto my iPhone, so I can recommend it personally as a good place to get your peepers on all the latest Gooner-related happenings.
Right… That's all for today, folks. All that remains is for you wonderful creatures to take your thinkings and voice to the comments section and plaster it with your glorious opinions and ideas. Who would you start today?  What is your prediction for the score? In games with no meaning other than pride, do you even care? Let me know.
I shall return tomorrow with a review. If you're looking for some pre-game entertainment, be sure to check out the latest Goonersphere Podcast now available on SoundCloud.
As always; thanks for reading, you beautiful bastards.