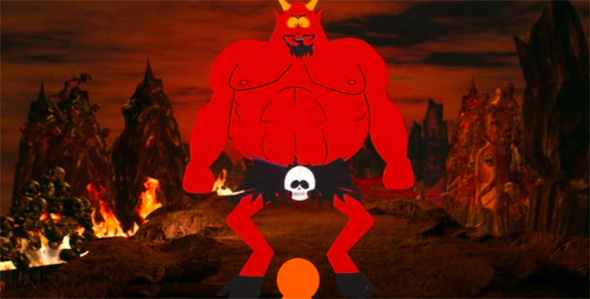 Afternoon/evening, folks.
Apologies for the lateness of this entry. Today represents one of the few days off I'm afforded at present, so writing this morning's entry took a place on the back burner in favour of spending some quality time with my girlfriend. Our day comprised of waltzing about the streets of Cheltenham and going for a bite to eat at Turtle Bay – a Jamaican chain restaurant, for those of you who may not know.
I don't usually eat spicy food. It invariably has an adverse reaction on my innermost workings. Today, I threw caution to the wind and opted to try the BBQ Pork Belly which came with an unidentified spicy marinade. I don't want to liken my stomach to the kingdom of Beelzebub, but it may be the only accurate way to describe the burning terrors that remain some 3-4 hours after eating. Sweet Moses wept – the food was delicious but I'm paying for it now.
Now that I'm home I can turn my attentions to football matters. The Championship play off final currently plays in the background as I'm typing this and Hull City have held on to a 1-0 lead to return to the Premiership. Congratulations to them. Later on it's the really interesting game and the Madrid clubs clash in Europe's most prestigious competition. Zidedine Zidane takes on the enigmatic Diego Simeone, a man who has been linked with Arsenal the last 6 months. I say 'linked', I mean only by those itching for Arsene to leave.
I'm not a huge fan. There's something too Mourinho-esque about his mannerisms, his tactics and his general demeanour. As is the case with Jose, there's no disputing the results produced by his methods. Simeone has transformed Atletico into regular league contenders and cup finalists despite regularly losing star players to richer clubs. So, it's easy to imagine why many clamour for Arsene to be booted out the door and replaced with David Beckham's favourite Argentinian.
But, again, I am not one of them. Arsene Wenger's copybook has suffered plenty of blotches in the past few years. But I don't think I'd want success if it came with sh*t-housery of that level. Simeone has accomplished fine things, but I find his methods irksome, his teams dull and his tactics, well… slightly bitchy and catty.
Maybe that matters not when it comes to silverware and part of the reason for our paucity of titles in recent years is down to a lack of ruthlessness. Simeone might just be exactly what we need – a change of direction and thought. But I don't like the idea. It sits uneasily with me in a manner I'm sure most honest United fans will share. Jose Mourinho does not fit their club just as Diego Simeone does not fit Arsenal. Would you sell your soul to the devil – who's currently living in my bowels – for something silver and shining or maintain the legacy of a man who stands for everything the opposite.
Tough call. So, I'll look to hear some of the thoughts of my good 'ol readers. Simeone or Wenger; if you had the choice right now? Personally I'm for getting behind Arsene for 1 last season. The comments await below, so please do share your thoughts.
I'll be back tomorrow morning with more. Until that time, and as always; thanks for reading, you beautiful bastards.