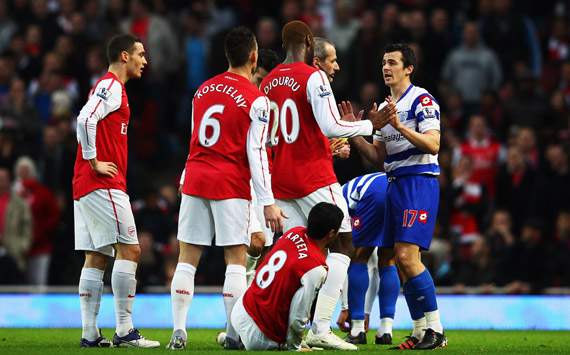 FA Premiership, March 31st: QPR Vs Arsenal
Saturday is here. Glorious football returns. Morning, folks!
Queens Park Rangers are one of those clubs I've built up a hatred for very quickly. My disdain doesn't reach the unwavering levels I reserve for those grubby, inbred neighbours of ours, but any team that can claim to have been represented by Colin Wanker, Mark Hughes and Joey Barton in the same season deserves a morsel of abhorrence from even the most magnanimous of football fans.
Today, we don't just need to score maximum points to sustain an excellent run of form, but also to strike a blow against the evil that does remain at Loftus Road. Our cause is aided by Djibril Cisse's bizarre return to English football; he'll miss a further four games having decided his tenure spent in the country will involve more ill-advised attempts at hacking opponents than it will goals.
The Arsenal team news is good. Laurent Koscielny has recovered from the tendonitis that kept him out of the Villa game, and should return to partner Thomas Vermaelen at the centre of defence. Abou Diaby's season is showing promising signs of him making an appearance longer than the 40-or-so minutes he's managed thus far, but it's unlikely he'll return to the squad. Jack Wilshere is still a couple of weeks away from full training. I don't imagine we'll see much in the way of change from our previous outing. My prediction for the starting 11 is:
Sczcsney; Sagna, Gibbs, Koscielny, Vermaelen; Song, Arteta, Rosicky, Gervinho, Walcott; van Persie
On paper, that's a side that should comfortably dispatch QPR, and if we play well I've few doubts we'll fail to do so. That said, caution is required. We need only look back to Liverpool's recent capitulation there to realise nothing should be taken for granted. Wenger may opt to exclude Gervinho in favour of a player with better ball retention, or he may chose to offer up a starting place for Oxlade-Chamberlain.
Arsene Wenger has been in the news yesterday having received yet another touchline ban courtesy of the breathtakingly idiotic representatives at UEFA. It seems all our manager has to to these days to receive European bans is pass wind mildly out of tune. He remarks about the Ref during the Milan game were both true, and entirely justified. UEFA should take note of the behaviour of certain high-profile managers they allow to go unpunished – Mr Mourinho – before they starting throwing around bans like they're fucking confetti.
In responce to the incident, Arsene Wenger said:
"If I am [suspended] then it is not justified and I will appeal straight away.

I believe that they have transformed UEFA competition referees to be untouchable icons, where you cannot even have a word.

The only thing they understand after the game is the report.

I believe that when you have 25 years consecutively in Europe you can still ask the referee that you can have some discussion with him. It is very difficult to understand"
I'd like to think that some element of common sense will prevail in the end, but given the organisation in question, I'd say he's more likely to receive further punishment simply for speaking. I yearn for the days actual football people gain jobs at UEFA, and not corrupt, bloated morons with the intelligence and charisma of a puddle of cat urine.
I'll finish up today with a mention for Villa's captain, Stilyian Petrov. Yesterday, it was announced he has acute leukaemia. I'm sure you'll all join me in wishing him the quickest and fullest of recoveries. Very sad news indeed.
That's all for today, folks. Take a moment to comment and follow my Twitter account – @_ArmchairGooner