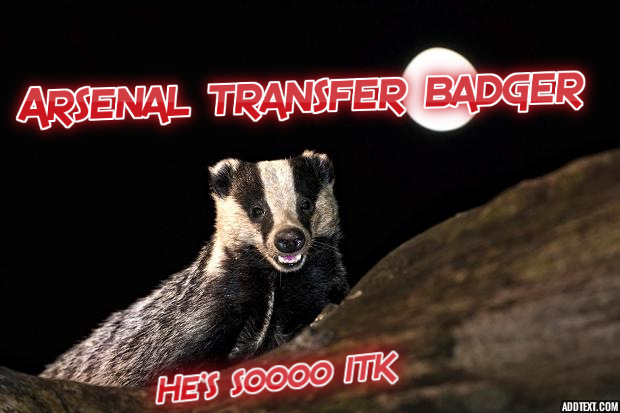 Morning, Earthlings.
James is absent today, so it's time for some Arsenal Transfer Badger news.
Since we last spoke, I've turned my rummaging and snuffling to Dick Law's very fine home – it's quite the bourgeois palace. Since Dick is nowhere to been seen at present, I've buried my way into his back yard, looted his trash and found some tantalising tid-bits for you. Incidentally, 'Dick Law' is also the name of one of his latest online rentals…
*snuffles violently*
First up we have that buck-toothed Nazi douchebag, Luis Suarez. Yes – he is a quite wonderful footballer, but he's a reprehensible so-and-so. He's recently stated he wouldn't be averse to staying in the Premiership. Suarez's current employers at Liverpool have remarked that the recent bid from Arsenal was in fact very real. Managing director, Ian Ayre has said:
"I've heard him say it would great to have an opportunity to play for Arsenal and likewise Real Madrid. But He certainly hasn't called me up and said he wants to leave.

We had an offer which is fairly public from Arsenal. We said no to that offer, and as far as we're concerned he turns iup for training when he's due back. And we'll move forward on that basis."

(Taken from Arseblog News)
*snorts ponderously*
Much debate has taken place amongst my fellow Badgers as to whether Arsenal should spend such an amount on a player so rightfully maligned, and one with an appalling disciplinary record. Sebastian Badger, who is quite the outspoken soul, seems to think it's a terrible idea and he wouldn't want to see him at The Emirates. However, Marjory, a docile female Badger whose hobbies include archery and Robot Wars, is a more liberal character. She believes in forgiveness, and sees only the footballing attributes Suarez would bring to the Club.
Across all communities of the Gooner family, opinions are divided down the middle on this one. It remains to be seen what will occur next, but Arsenal are alleged to be considering upping the bid to see if Liverpool will break their resolve.
*snorts, snuffles, and snorts*
With that deal looking to be Arsenal's first choice, others have begun to hover ominously around Gonzalo Higuain. At one point, the Argentine looked odds-on to sign with The Gunners, but the deal has cooled off in recent weeks. I still think he is the first choice, and the most likely. Napoli, Chelsea and even Liverpool are now said to be eyeing up a "swoop" (I fucking hate that word).
*snorts in alarm and displeasure*
I've saved the worst news for last …
Manchester United, according to someone who's probably making it all up, have lodged a firm £25m bid for Cesc Fabregas.
I've had to endure much pain and suffering in my time. Incidents that range from narrowly avoiding a farmer's cull, to mediating an discussion between an AKB and a WOB. However, those pale by comparison to how repulsed and agonised I would be to see our beloved little Cesc prancing about on the Old Trafford turf. With that Dutch prat, and all.
Typing that sentence has made me nauseas and ill-tempered. I cannot think of anything worse that could happen, short of Arsenal not signing anyone other than Sanogo this summer and parading Abou Diaby in an open-top bus as the marquee addition to the team.
*snorts angrily, and then snuffles*
With time ticking away, Arsenal are looking less and less likely to pull a huge coup out of the bag and surprise us all. But that's not to say it won't happen. Dick Law, from what I can gather from the intell I obtained at his home, is a useless c**t. Hopefully someone at Arsenal will dispatch a boot firmly into his backside, and he'll be compelled into action.
You have to believe something is going on behind closed doors. Deals must be in the pipeline, and we if have vast amounts of cash at our disposal, you'd have to hope we intend to keep to the promises stated and use some of it. There is reason for concern – undoubtedly- but also reason for hope. We are still weeks away from the new season, and plenty can happen in that time. The window isn't over yet.
That's all for today, you wonderful humans. I'm off to bury something and chase after young boys whilst omitting a blood-curdling scream. Tomorrow James will return to plaster the internet with his usual rambling dross. Today, I'd like you to use the comments to tell me what you realistically think will occur between now and the big kick-off.
I shall look forward to reading a few of your thoughts.
Lots of love
Kenneth – The Arsenal Transfer Badger. xx