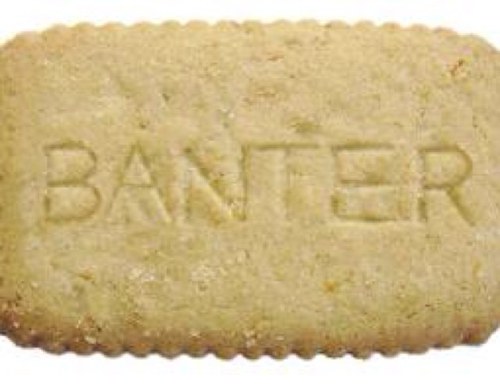 Morning, folks.
You know how irritating it is when you click onto an Arsenal blog hoping to read news and updates only to discover that the author is rattling on about extraneous elements of his personal life? I'm that guy.
Today I have to work a lengthy shift at work and I'm looking forward to it about as much as I would were I to be forced into cutting my penis off on live television. Christmas is a time for festivity and camaraderie, that I shall not deny. It is also a time for James to be f**king irritated and consider jacking in his gainful employment in favour of writing a blog all the time. It's a beautifully idealistic notion, but, alas, largely unfeasible.
But, hey – you want Arsenal information so bad you can taste it, so rattling on shall be put to one side momentarily and I will endeavour to press on.
I really do f**king get wound up, though, You have no idea. Working in a kitchen with egomaniacs barking instructions is something I've learned to ignore- empty vessels make the most sound, and all that. It's the lack of appreciation and jaw-dropping stupidity from the higher authorities that really grinds my gears…..
Oh fu*k off, James. Stop moaning.
Sorry.
I'll get on with it now.
Right… The banter defence. Injuries and suspensions mean we have Gibbs, Mertesacker, Debuchy and Bellerin as the 4 available defenders for Saturday against Newcastle. Given Arsene's seemingly reluctance to use any of the youth team players (Isaac Hayden is injured), we're looking at Bellerin at right-back with Debuchy filling in alongside the BFG.
Alarming, isn't it? It's moments like this that really suggest a bit of recruitment in January is some distance from a luxury, but essential. If we keep fielding a makeshift back four we're going to leak goals. Stability is important, perhaps more so at the back than anywhere else. We have a good-looking rear guard with everybody fit., but even then the numbers appear low. Bringing in a defender able to slot right in is vital. Personally, I think Ashley Williams at Swansea is a good shout; Premiership proven, quick, strong and a good organiser.
Elsewhere, I discovered this little graphic thingy-me-bob that details – accurately or otherwise – the probabilities of which teams will face-off in the final 16 of the Champions League – I've no idea how it was compiled to be perfectly honest. I looks kinda fancy and important so I figured I'd share it. Online etiquette dictates I must credit whomever shared it and I shall – I just can't remember who it was. Thanks, person I can't remember. It says EuroSport in the top-left corner, so it must be them…
Here it is: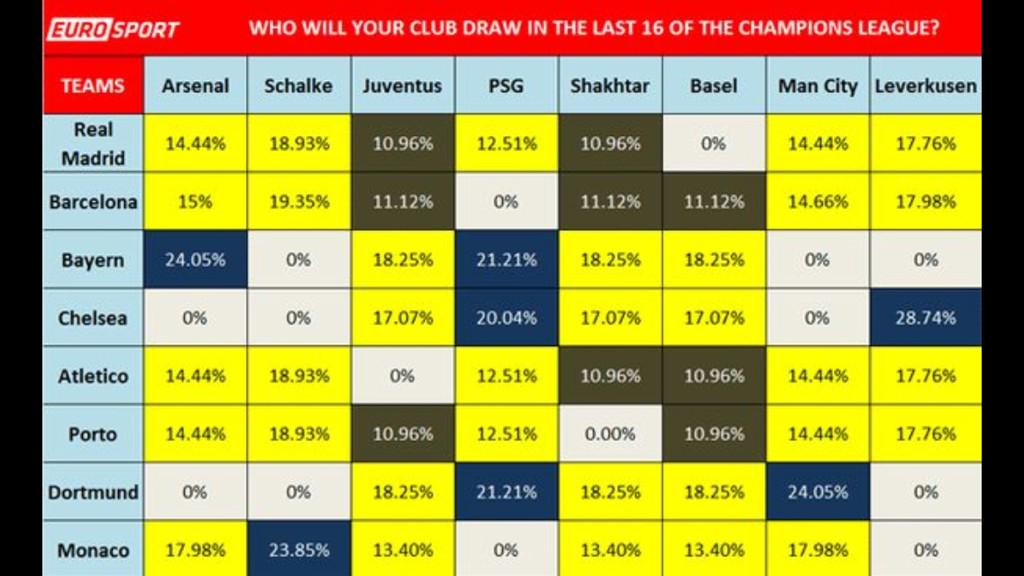 The draw is made this Monday so we shall see. Bayern, Real Madrid and Barcelona is my guess. All at once.
Right, this entry shall remain short, sweet and a bit moany… The comments await you below, folks – let me know your thoughts on how our defence could look on Saturday and perhaps who you would see as a good bit of business in January.
I'll be back soon.
As always; thanks for reading, you beautiful bastards.