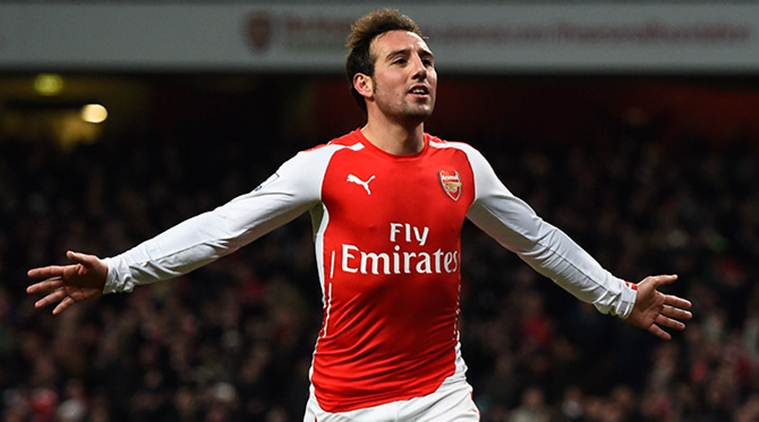 When the notification came through that a new post awaited you on The Armchair Gooner a warm feeling spread to your special place. You don't have to deny it. It's entirely understandable that your nether regions would be tantalised by the mere thought of pouring over the pulchritudinous prose of James 'Raul' Stokes, Esquire. As it is that your warm feeling withered away like cling film under a flame when you realised these words were not typed by James' fair fingers. And I literally mean two fingers. He types like he lost the rest of his fingers to frostbite or an antagonised crab attempting to squish invading ants.
James has fully embraced domesticity and is currently nesting with his frankly way-out-of-his-league girlfriend so has little time to massage his foibles with such distractions as podcasting or blogging. However, I have it on good authority that once settled into his new home he will be allowed occasional internet access for good behaviour so will be back to delighting your days with Arsenal fayre and random titbits from the rabbit hole that is his psyche. To keep things ticking over I, his podcast co-conspirator, Daniel Cowan of North London Is Red infamy, have agreed to share a few thoughts with you about everyone's favourite diminutive bundle of joy, Santi Cazorla. If you thought I was going to say Jokman, congratulations! You've been successfully indoctrinated into our cult and you can expect us to empty your bank accounts soon.
So, Santi. How do you replace the irreplaceable? Sure, Arsenal's squad depth is the best it has been in almost forever but without Cazorla we're a distinctively less intelligent team and struggle to get the ball to our most dangerous players. Was November just a typical Arsenal November or were our draws against rather average Sp*rs and United teams caused by the loss of Santi?
Arsenal certainly have the bodies to replace him but sadly not the talent. None in the team can move the ball from deep midfield to high midfield with the urgency, precision, ambidexterity and intelligence he does and with surgery looming Arsenal will be without their talismanic magician for up to three months. This represents a huge problem for Wenger.
The stats speak for themselves. Since the start of last season, Arsenal's Premier League win percentage with Santi is 65%, without just 46%. Since his injury Arsenal have won just 4 of 9 matches. This, and the odds with Sun Bets on Arsenal winning the league now Cazorla is injured, is enough to suggest his absence will have a meaningful impact on our points total unless we get to grips with the alternatives.
The alternatives available to Arsenal, at least without involving transfers, are: play Granit Xhaka or change the formation entirely. The success of Arsenal's current system relies on sharp, incisive passing that splits the opposition defence wide open and allows our wide players and Alexis to pounce with deadly force. This cannot happen unless Mesut is involved more and without Cazorla to cycle the ball through midfield he just isn't getting the service.
Xhaka's continued involvement would be the best solution to mitigate the loss of Cazorla as his passing ability and range gives Arsenal another avenue to penetrate the lines and get Özil running the show again. The issue so far seems to be Wenger's reluctance to give Xhaka a run of games. Of course, we don't know everything Wenger knows and there may be an excellent reason he is being cautious with his top summer signing but one thing is clear, we cannot continue to play variations of uninventive midfield pairings that make us slow and ponderous. Coquelin is not a bad passer by any means but he's a few microseconds behind most other players when it comes to picking a pass. Coupling him with Elneny or Ramsey proves to be pernicious each time it is attempted.
With English football about to hit festive fixture overload and the league leaders within touching distance now is the time to go on a run of wins. If Arsenal wish to claim their first league title since 2004, they must find a way to get Mesut back in the game. I believe that starts with picking Xhaka to start against West Ham.