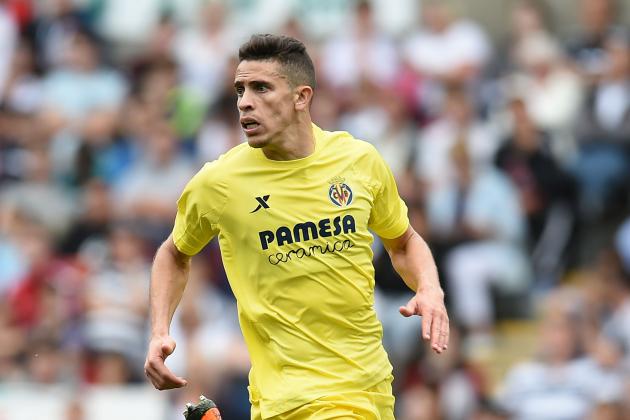 Morning, folks.
With the signing of Gabriel Paulista all but secured for an undisclosed fee (Why do Clubs often refuse to disclose fees? Is it to repell startled inhalations at such a hefty price tag? To stifle the sellers' fans from kicking up a fuss at a player being sold under market value? Perhaps it's to be surreptitious for no good reason. Never mind…) from La Liga outfit Villareal, I thought I'd take a moment to delve into who he actually is.
That means scouring compilation/welcome videos that have emerged all over YouTube and checking vital statistics via his Wikipedia page. With Arsenal being one of the best represented teams in terms of an online community, it came as no surprise that there are many of these. In fact, I'd go as far as saying they're pretty much useless.
Anyone can chop together a reel of their finest footballing moments, plaster it across cyberspace and come across as half decent. I'm fairly sure I could do it. It's simple; edit together a few choice moments, play some pulsating German techno in the background, add a few bombastic graphics and all of a sudden the internet is clamouring for me to be signed for Arsenal. Of course, they'll be blissfully unaware of just how jarringly sh*t I actually am until they're petitioning for me to be shot after having failed to mark Peter Crouch at a corner. Bloody zonal marking…
The titles throw you off, too. It's always things like "Gabriel Paulista's Top 10 Crucial Interceptions". Hardly gives you an insight into the player himself. Why not compile something along the lines of "Gabriel Paulista's Top 10 Nuanced Inflections That Suggest A Leaning Toward Left-Wing Liberal Politics".
Truth is, none of us give a sh*t who Gabriel is, what his favourite variety of soup is or what his hopes and aspirations for the furute may be. We care wether or not he can defend. Flicking through YouTube videos doesn't give you anything but the briefest of glimpses into his attributes.
I watch La Liga from time to time. Occasionally I peruse matches that involve Villareal and, truthfully, I can't say he's ever jumped out at me as a formidable rock at the back. Could this be because he's unremarkable or simply quiet and efficient in the say way Gilberto Silva was? Hard to say. I could list an abundance of stats and comparisons such as this one from Sky Sports: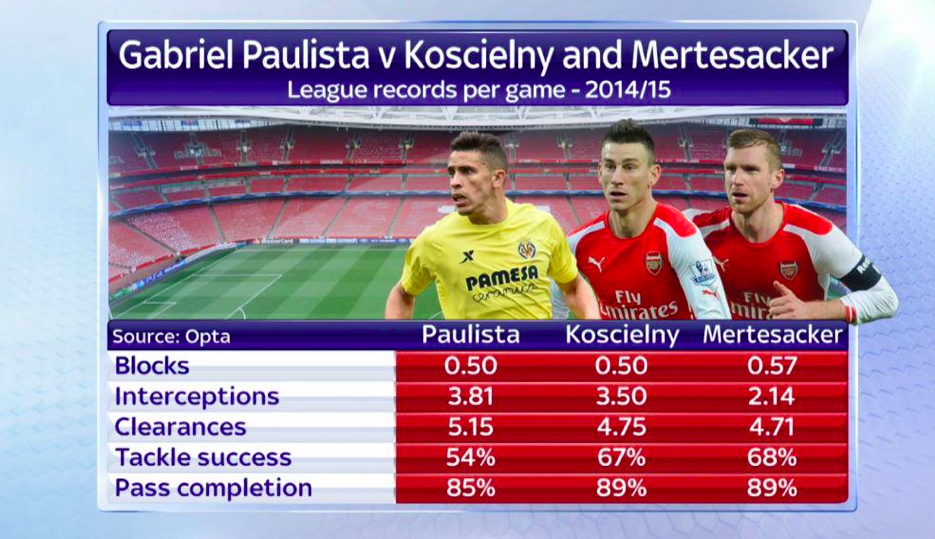 Looks pretty good, doesn't it. It's entirely misleading. The transition from La Liga to the Premiership can be very difficult to make. There's no way to tell how he'll adapt and it could easily go either way. By all accounts, he's a solid player, if a little rough around the edges. At 24-years-old he probably represents work in progress as opposed to the finished article. I don't think he'll immediately command a starting place, but he should serve to offer us reliable cover and some degree of competition. These can only be good things as we look to move forward. Only time can truly show us whether he has what it takes to be a quality player for Arsenal.
I think that'll be all for today, folks. I leave you with a nod towards the comments section and a delicious link to the latest Goonersphere Podcast. It's our usual brand of anarchy and profanity this week, sprinkled with just enough Arsenal chat to keep you interested. Hope you enjoy.

I shall be back tomorrow with more.
Before I disappear into the wilderness and sorrow of my work life, I've one final suggestions for you. Those of you that listen to the podcast and regularly read the Goonersphere Blog Site will be fully aware of Jok, and all his splendid Jok-based antics.
Along with his writings for Goonersphere, he's recently taken to starting up a site of his own. I'd highly recommend you wonderful people take a few moments of your time to enjoy his offerings on The Hot Stepanovs.
As always; thanks for reading, you beautiful bastards.